The Pit and the Pendulum 1991 - English 1080p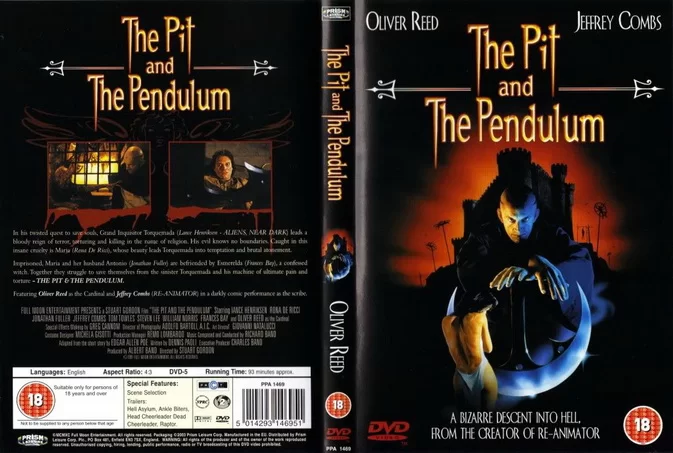 The Pit and the Pendulum 1991 - English 1080p
Horror film set in 1492 Toledo, Spain, depicting the cruel deeds of a monk named Torquemada, Grand Inquisitor of the Spanish Inquisition.
It is the time of the Spanish Inquisition. Maria does not like what is going on during the "Auto De Fe". When she speaks out, she is arrested and accused of being a witch. Torquemada has plans for her! He orders her tortured, and her tongue to be cut out. Her husband attempts to free her...
American horror film directed by Stuart Gordon and based on the 1842 short story by Edgar Allan Poe. The film is an amalgamation of the aforementioned story with Poe's "The Cask of Amontillado", and it also appropriates the anecdote of "The Sword of Damocles", reassigning it to the character of Torquemada.
Cast: Lance Henriksen, Jeffrey Combs, Oliver Reed, Frances Bay, Barbara Bocci, Fabio Carfora, Geoffrey Copleston, Rona De Ricci, Larry Dolgin, Fabrizio Fontana
Genre: Horror, Romance
Release date: 28 February 1991
Language: English
Studio Full Moon
PPA-1469
MP4 - 800x600 - 1.5Gb - 97min
MP4 - 1 h 36 min | 1.51 GiB | 2 232 kb/s | MPEG-4 | 1792x1080 | AAC 48.0 kHz 6 channels 224 kb/s
---
Archives open WinRAR version 5+
---
Download:
Mirror:
Links do not work, dead, corrupted? Click here and let us know!
リンクが機能しない、死んでいる、破損している? ここをクリックしてお知らせください。
---
---
Category:
Full movies DVD